ATELIER YU BRILLIANT FLOWER KUTANI TEAPOT 12.2OZ(360ML)
Atelier Yu Brilliant flower Kutani Teapot 12.2oz(360ml)
This is a beautiful Japanese teapot, decorated with hand painted flowers from popular "brilliant flower" series by Atelier Yu. The designed flowers on the backside are also very charming.
The size is perfect for 2 to 3 person.
The stainless tea strainer is attached inside of the teapot.
The simple shape of the spout is easy to wash.
It's a great gift for tea lovers or people who are interested in Japanese craftsmanship. Or you may simply use it as a beautiful home decoration.
If you have teacups with the same design (sold separately), you and your guests can have a more unified and beautiful tea time.

PRODUCT DETAIL
Dimention: 4.1in(10.5cm)

×6.0in(15.2cm)×3.9in(10cm)

Capacity: 360ml(12.2oz)
Material: Porcelain - Kutani ware

Origin: Made in Japan
Brand: Atelier Yu


Tag @musubikiln for a chance to be featured
On Instagram
ABOUT ATELIER YU
"Tableware determines the taste of food"

Their atelier is specialized in Kutani ware painting performed by female artisans.

Artisans work every day at the foot of the sacred Hakusan mountain surrounded by sounds of breeze of singing birds.

Kutani Colored Artwork
While focusing on the traditional colors called Kutani gosai (five colors), they add the sweetness of women to our pottery, hoping to bring a smile to everyone who use it.

They are delighted to help bring a smile to your dining.

View more Atelier Yu items
About kutani ware
Kutani ware is a type of pottery produced in the Kaga region of Ishikawa Prefecture and it has a history of over 350 years.
It is characterized by the heavy brilliance of the five colors of green, yellow, red, purple, and navy blue that are applied to the bold and daring lines.
Its long history has evolved through the tireless efforts and enthusiasm of people who have sought innovation while maintaining tradition.
In the early 1700s, the Kutani kilns were closed, but about 80 years later they were opened and Kutani ware was revived.
The beauty of the various styles and methods of painting is known as "Japan Kutani" and is highly regarded around the world.
Customer Reviews
Write a Review
Ask a Question
10/12/2021
Anonymous

United States
I recommend this product
Beautiful teapot
What a beautiful teapot!! I love the colors of the beautiful flowers!! We haven't been able to travel to Japan for a couple summers now, but having this beautiful teapot brings a little bit of Japan to us!!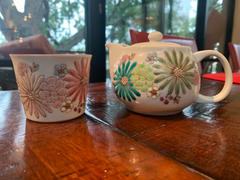 Thank you so much for your great review and photo! It means so much to us. We're very happy to hear that this pot brings a feeling of Japan to your home. Please visit Japan again after this situation will be better :)
05/17/2021
Anonymous

Australia
No drip tea pot for one - tea bag or loose leaf - PERFECT.
Beautiful, I love my personal teapot. I use it each day for my morning green tea and my evening "calm" tea. It is NO DRIP, which isn't always possible with a teapot purchase. This is perfect.
Thanks so much for your thoughtful and detailed review! Learning about the pleasant experience you had with our items was really confidence-boosting. We're happy that you're happy, and we're looking forward to your next visit.