ALART ALUMINUM ROUND WINDOW FRAME SINGLE FLOWER VASE
ALART Aluminum Round Window Frame Single Flower Vase
Decorate your home with this artistic vase from ALART. This unique vase consists of a large round aluminum frame, a wooden base and a small glass tube. Mixing three different materials gives this piece a special artistic feel and creates a perfect canvas for flowers. 
The vase itself is beautifully crafted and can be placed in a home as a decor item. As a vase, it wonderfully accentuates the organic and simple appeal of natural flowers and greeneries. 
This vase is easy to use. We recommend using 1 flower with a leaf or 1 flower with greenery. Simply insert a tall flower or leaf inside the glass tube. The composition is given a more dynamic feel when some part of the flower or leaf extends out of the aluminum frame. 
Here are some recommended flowers according to season. 
Spring: Cherry blossoms
Summer: Green Foxtails
Autumn: Cosmos flowers, Maple leaves, Wild Chrysanthemums (slightly curved)
Winter: Nandina berries and leaves, Narcissuses, Wintersweet branches

Feel free to use whatever flower that may be available. Enjoy experimenting with different colors, shapes and sizes. 
ALART is a brand created by Marushin Kinzoku Kogyo, a company based in Ashikaga City, Tochigi Prefecture, in 1976. With their long experience of processing aluminum, the company pursued the possibilities of this highly versatile material and created various items from tableware to home decor items. They hope that their products will convey the passion and dedication of all those involved in the manufacturing process. They also hope that their products can assist people to connect with one another. Enjoy high-quality craftsmanship and unique creativity with vases from ALART.
PRODUCT DETAIL

Quantity: 1 Aluminum frame, 1 Wooden base, 1 Glass tube
Dimension: [Aluminum frame] H40cm(15.7in), [Wooden base]  6.5cm(2.6in) x 6.5cm(2.6in) x 14cm(5.5in), [Glass tube] D2cm(0.8in) x H10.5cm(4.1in)
Material: Aluminum, Wood, Glass
Origin: Made in Japan 
Brand: ALART
Notes: After use, dry all surfaces with a cloth. On the aluminum surface, white spots may begin to appear but are harmless.
All edges have been smoothed but be cautious when handling.
Do not clean with metal sponges or abrasive cleansing agents.
Tag @musubikiln for a chance to be featured
On Instagram
ABOUT ALART
ALART is a brand created by Marushin Kinzoku Kogyo in 1947, when the company began a new search. The brand pursues the possibilities of aluminum based on the concepts of original ideas that break free from stereotypes, design that enhances the creativity of the user, and creative craftsmanship.
View more ALART items
About METALWORKS
In Japan, gold, silver, copper, tin, and iron are called "Gokin (five metals)" and have been used as materials for metalworking since ancient times. Each metal has a different luster, workability, strength, thermal conductivity, heat retention, moisture resistance, corrosion resistance, etc., and techniques to utilize these characteristics have developed in various regions.From daily necessities such as pots, kettles, and accessories to works of art that represent the times such as tea ceremony utensils, Japanese swords, and Buddhist bells, a wide variety of metalwork has been produced in each era.
View more Metal items
Customer Reviews
Write a Review
Ask a Question
09/30/2023
HanMei C.

United States
I recommend this product
Elegant and Beautiful
This vase adds elegance to any space. The simplicity of its lines accentuates flowers of each season. I love this vase.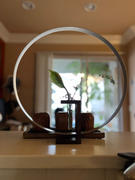 Thank you for your wonderful review with the beautiful photo! The vase cuts through your living room like a picture frame and is a nice, natural match. We're so happy to see that you love our product, and we're looking forward to your next visit!