YOSHIDAYA FLOWER AND BIRD KUTANI JAPANESE FLOWER VASE
Yoshidaya Flower and Bird Kutani Japanese Flower Vase
A beautiful Japanese flower vase with a bird perching on a flower branch. It is painted in vivid colors using only the 4 colors, yellow, green, dark blue and purple, which is a Kutani ware painting style called Yoshidaya style.
It is a diameter of 9.5cm(3.7n) and a height of 9.5cm(3.7in).

Due to its compact size, it can be placed in various places in the room, such as washbasins, tables, desks, and shelves.

With this unique design, it will infuse an elegant and sophisticated atmosphere into your room. Fill it with flowers or greenery or simply display it as a great addition to your home decoration.

PRODUCT DETAIL
Dimension: D9.5cm(3.7

in) x H9.5cm(3.7

in)
Size of opening: D2.7cm(1.1in)
Material: Stoneware - Kutani ware
Origin: Made in Japan
FEATURES
Yoshidaya Style
Yoshidaya Style, which is one of the most famous traditional style of Kutani Ware, was first created by Yoshidaya Denemon in 1824. The four basic colors that are used within this plate are yellow, green, and aubergine. This style restored the painting style of Aote Ko-kutani. Yoshidaya painted the surface of the plate completely using only the 4 colors, yellow, green, dark blue and purple and never red.
Tag @musubikiln for a chance to be featured
On Instagram
About kutani ware
Kutani ware is a type of pottery produced in the Kaga region of Ishikawa Prefecture and it has a history of over 350 years.
It is characterized by the heavy brilliance of the five colors of green, yellow, red, purple, and navy blue that are applied to the bold and daring lines.
Its long history has evolved through the tireless efforts and enthusiasm of people who have sought innovation while maintaining tradition.
In the early 1700s, the Kutani kilns were closed, but about 80 years later they were opened and Kutani ware was revived.
The beauty of the various styles and methods of painting is known as "Japan Kutani" and is highly regarded around the world.
Customer Reviews
Write a Review
Ask a Question
12/15/2022
Anonymous

Canada
I recommend this product
So cute!
Such a cute design on this vase. I haven't put any flowers/decoration in it yet, but looking at the vase alone makes me happy.
Thank you so much for taking the time to leave us this amazing review! It means so much to us. We're happy that you're happy, and we're looking forward to your next visit.
12/12/2022
Marco W.

Netherlands
I recommend this product
Little piece of Art
I ordered several items from kutani and as always the package arrived perfect and fast. The service and quality from musubi kiln is really good and will definitely order more in the future. The vase from kutani looks really beautiful the yellow colors is so vibrant. Thé paintings from the bird and flowers are beautiful it just looks like a little pieces of art.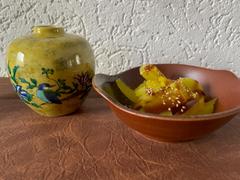 Thanks so much for your thoughtful and detailed review! We're glad that those pieces arrived safely and that you love them! They are produced by craftsmen one by one with love. We wish they make your days a little more special!
I recommend this product
Beautiful kutani vase
I order more items from kutani here by musubi kiln. The style and art of the kutani products is just amazing and beautiful. The colors are so vibrant and then the painting of the little bird and flowers looks like little pieces of art. The service and shipment from misubi kiln is just perfect as always. So I cannot wait to order again in the future.
We're so lucky to have a customer like you! You make us want to work harder and better. We look forward to seeing you again soon!