ATELIER YU BRILLIANT FLOWER KUTANI ROUND PLATE
Atelier Yu Brilliant Flower Kutani Round Plate
These Japanese plates are decorated with pretty flowers from one of the popular "brilliant flower" series. The beautiful hand-drawn floral patterns add color to the simple shape of the porcelain as if it were a flower blooming.
Atelier Yu is known for its delicate handiwork, as you can see the Japanese color painting makes thickness on the colored part by painted with brush.
They are available in 5 colors: blue, pink, green, yellow, and purple. The size is suitable for putting salad, cakes, breads, and so on.

The soft colors of the plates will bring a smile and peace to your heart. This will be a great gift to yourself or for your friends.
PRODUCT DETAIL

Quantity: 1 plate / Set of 5 plates
Dimension: 20cm(8in)
Material: Porcelain - Kutani ware
Origin: Made in Japan
Brand: Atelier Yu
Tag @musubikiln for a chance to be featured
On Instagram
ABOUT ATELIER YU
"Tableware determines the taste of food"

Their atelier is specialized in Kutani ware painting performed by female artisans.

Artisans work every day at the foot of the sacred Hakusan mountain surrounded by sounds of breeze of singing birds.

Kutani Colored Artwork
While focusing on the traditional colors called Kutani gosai (five colors), they add the sweetness of women to our pottery, hoping to bring a smile to everyone who use it.

They are delighted to help bring a smile to your dining.

View more Atelier Yu items
About kutani ware
Kutani ware is a type of pottery produced in the Kaga region of Ishikawa Prefecture and it has a history of over 350 years.
It is characterized by the heavy brilliance of the five colors of green, yellow, red, purple, and navy blue that are applied to the bold and daring lines.
Its long history has evolved through the tireless efforts and enthusiasm of people who have sought innovation while maintaining tradition.
In the early 1700s, the Kutani kilns were closed, but about 80 years later they were opened and Kutani ware was revived.
The beauty of the various styles and methods of painting is known as "Japan Kutani" and is highly regarded around the world.
Customer Reviews
Write a Review
Ask a Question
06/08/2023
Anonymous

United States
06/08/2023
Anonymous

United States
I recommend this product
Casual and pretty
This plate works beautifully for brunch and for dinner. Specially love serving on it fried egg (yellow plate), pancakes (pink plate) and hamburger (purple plate).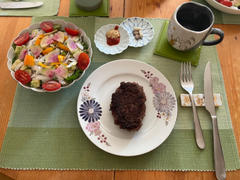 Thank you for your great comment and for sharing a photo! We hope that the plates bring an added touch of joy to your day!
04/07/2023
Anonymous

United States
Joyful and inviting
Such a pretty and warm perfectly sized plate . Nice addition to my ever growing Atelier Yu Brilliant Flower collection. I love soft palette of colors on painted flowers. I intend to use it with morning and mid day meals.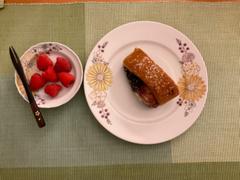 Thanks so much for your wonderful comment with photo! We wish the plate makes your days a little more special!