HAKEME SPIRAL RIM KOISHIWARA ROUND PLATE L
HAKEME Spiral Rim Koishiwara Round Plate L
This plate has a unique line around the rim and the brushed pattern. It is both rustic and modern, and suitable for any kind of dishes.
Perfect for serving the main dish, can be used as a great Sashimi platter and Tempura platter.
The production of Koishiwara ware began before the production of Onta ware and one of the potters from Koishikawa ware was invited to teach in the production area of Onta wear.
Koishiwara ware features a pattern that conveys the warmth of old-fashioned handiwork, and retains the goodness of earthy colors and thick, simple clay. It is a tableware that brings out the goodness of the ingredients of cooking.
See more items from our Koishiware ware collection to check out different sizes and patterns.

PRODUCT DETAIL
Quantity: 1
Dimension: D23.5cm(9.2in) x H3cm(1.1in)
Material: Pottery - Koishiwara ware
Origin: Made in Japan
About Onta & Koishiwara ware
Onta ware
The history of Onta ware began about 300 years ago. In the quiet village of Hita City in Oita Prefecture, Japan, the tradition has continued uninterrupted.
It is made of a sturdy red clay base and decorated with earthy colors using decorative clay and glaze.
It looks thick and heavy but when you actually hold it, it is not so heavy. The clay used is reddish and rich in iron. The various shapes and patterns expressed by the glaze give the pottery a simple and warm feeling.
The reason why Onta ware is said to be one of the most valuable pottery in Japan is that it is made by hand, not by machine, and with the help of nature, which has remained almost unchanged since 300 years ago. While other pottery producing regions have been mechanizing their production, here all processes are done by hand by the entire family.

Koishiwara ware
Koishiwara ware has a history of about 350 years, and is pottery made in the Koishiwara area of Azuma Village, Asakura County, Fukuoka Prefecture.It has a simple, chunky clay texture and is easy to use from a practical standpoint. Lately, it has been gaining popularity for its well-designed white vessels and modern patterns.
Customer Reviews
Write a Review
Ask a Question
07/14/2021
Doris H.

Australia
Another gorgeous piece.
Very pretty with food in it Smaller than a normal plate but it is a good size - just have to put rice in rice bowl on the side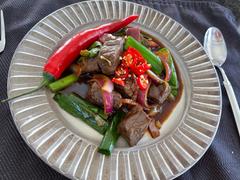 Thank you so much for your kind words and beautiful photo! This plate enhances your delicious food :) We wish it makes your days little more special. We look forward to seeing you again soon!