HANAZUME FOUR SEASONS KUTANI YUNOMI JAPANESE TEACUP
Hanazume Four Seasons Kutani Yunomi Japanese Teacup
This Japanese teacup is beautifully adorned by delicate Hanazume style, meaning filled with flowers, one of the most notable designs of Kutani ware which has been handed down in the Taisho period (1912–26).
Filled with colorful flowers of four seasons, such as plum(for Spring), Japanese morning glory(for Summer), chrysanthemum(for Autumn), and camellia(for Winter), are beautifully painted with gold trimming.
It has a timeless elegance and sophistication which makes your tea time more special.
See more items from our Hanazume Kutani collection for a more unified and beautiful table setting.
Note:
Due to the characteristics of the kiln, there may be individual differences in glaze hue.
PRODUCT DETAIL
Dimension: D

8.1(3.2in)

x

H8.1cm(3.2in)
Capacity: 220ml (7.4oz)
Material: Porcelain - Kutani ware
Origin: Made in Japan
FEATURES
HANAZUME STYLE
Hanazume is a traditional technique of Kutani Ware. This style was introduced in 1913 by Shiro Mizuta, a skillful craftsman in Kanazawa. A flower decoration covers the entire surface, and outlines are painted in gold. This style is representative of gorgeous Kutani-ware.
Tag @musubikiln for a chance to be featured
On Instagram
About kutani ware
Kutani ware is a type of pottery produced in the Kaga region of Ishikawa Prefecture and it has a history of over 350 years.
It is characterized by the heavy brilliance of the five colors of green, yellow, red, purple, and navy blue that are applied to the bold and daring lines.
Its long history has evolved through the tireless efforts and enthusiasm of people who have sought innovation while maintaining tradition.
In the early 1700s, the Kutani kilns were closed, but about 80 years later they were opened and Kutani ware was revived.
The beauty of the various styles and methods of painting is known as "Japan Kutani" and is highly regarded around the world.
Customer Reviews
Write a Review
Ask a Question
02/27/2022
Ruby A.

United States
Goldilocks teacups
I own two teacups from Musubi and i love them both. The details are beautiful, it's hard to believe they were handmade. I just think it's funny that my other teacup is gigantic while this one is tiny. I obviously don't take issue with it, it keeps life interesting! I just feel like Goldilocks!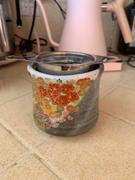 Thank you so much for your thoughtful and detailed review! The other teacup you purchased is a larger size than this one. We hope you will enjoy both according to your purpose :)