WAVE PATTERN NAMBU IRONWARE CAST IRON TEAPOT 20.3OZ(600ML)
Wave Pattern Nambu Ironware Cast Iron Teapot 20.3oz(600ml)
This is a cast iron teapot with a wave pattern made of Nambu ironware in Morioka City, Iwate Prefecture in the Tohoku region.

The wave pattern is called "Seigaiha", which is a traditional Japanese pattern that reminds us of the blessings of the vast ocean. The infinitely expanding wave pattern is an auspicious one that expresses wishes for happiness that will last forever and for a peaceful life.
It comes with the stainless steel strainer on the inside.
Handle can be folded down.
Do not use over an open flame, as the coating on the inside may peel off to prevent rusting.

Nambu ironware teapots have stylish and timeless design, and are easy to use. It has a high heat retention capacity, so the brewed tea does not get cold easily, also the enameled interior is easier to clean.

The charm of Nambu ironware is that it can be used for decades, sometimes for generations. Please use it in your daily life and enjoy the changes it undergoes over time.

*Important note regarding the difference in shading and red spots seen on Nambu ironware

During the production of an iron kettle, there is a process in which the entire kettle is fired in order to apply an oxide coating to prevent rust. At this time, depending on the condition of the fire and the unevenness of the temperature, a pattern may appear on the surface of the iron kettle. Red spots can also be seen, but these are thought to be the result of too high a temperature.
There is no problem in use, so please rest assured of its product quality.
PRODUCT DETAIL
Quantity: 1
Dimension: 【Teapot】15cm(5.9in) x H17cm(6.7in)
Capacity: 0.6L

(20.3oz)

Material: Cast Iron
Origin: Made in Japan

Tag @musubikiln for a chance to be featured
On Instagram
ABOUT NANBU IRONWARE
Nambu ironware, a representative of Japanese ironware, is a cast pure iron craft that has been continued since around the Edo period in the Morioka City area of Iwate Prefecture in the Tohoku region. The name comes from the region where it was made in the old days, known as the Nambu domain.Combining robustness and delicate design, Nambu ironware has more functional advantages than its attractive appearance.
View more NANBU IRONWARE items
About METALWORKS
In Japan, gold, silver, copper, tin, and iron are called "Gokin (five metals)" and have been used as materials for metalworking since ancient times. Each metal has a different luster, workability, strength, thermal conductivity, heat retention, moisture resistance, corrosion resistance, etc., and techniques to utilize these characteristics have developed in various regions.From daily necessities such as pots, kettles, and accessories to works of art that represent the times such as tea ceremony utensils, Japanese swords, and Buddhist bells, a wide variety of metalwork has been produced in each era.
View more Metal items
Customer Reviews
Write a Review
Ask a Question
07/15/2023
Matthew K.

United States
Nice pattern
Great teapot. The weight is very nice and I love the wave patterning. It reflects light around edges and on the detailing in an interesting way. Also pours perfectly, almost impossible to spill!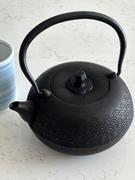 Thank you for leaving such wonderful feedback with a picture! Our craftsmen and we would be so happy if you could use it with great care for a long time. We look forward to seeing you again soon!