FUKUNISHI SOBE CHRYSANTHEMUM AIZU LACQUERWARE SOUP BOWL
Fukunishi Sobe Chrysanthemum Aizu Lacquerware Soup Bowl
This soup bowl is hollowed out from Japanese horse chestnut, which is the best material for wood bowls. It has a slightly matte texture in calm vermilion color.
The lacquering process, from the base coat to the top coat, has been inspected for designation as a traditional Aizu lacquerware craft.

Aizu-e, the traditional design of Aizu lacquerware, is hand-painted one by one by skilled maki-e artists. The painting of the chrysanthemum flower is considered as auspicious motif in Japan, warding off disease and bringing longevity.

The decoration is done by hand, using brushes and cotton buds for painting, so each piece is finished differently. This is the reason why some of the gold paintings are blurred and some paints are pooled, but we hope you enjoy it as the charm of handmade products.
Its timeless traditional design is suitable for long-term use, daily use or when entertaining guests.
See more items from our Fukunishi Sobe collection.
PRODUCT DETAIL
Quantity: 1
Dimension: D11.2cm(4.4in) x H6.7cm(2.6in)
Material: Wood 
Origin: Made in Japan - Aizu Lacquerware
Brand:

 

Fukunishi Sobe
Tag @musubikiln for a chance to be featured
On Instagram
ABOUT FUKUNISHI SOBE
Fukunishi-Sobei Shoten was started by taking over the lacquerware division from the main family, which had been in existence for 13 generations since the early Edo period. They have developed their products over time by figuring out "what must not be changed and what must be changed". In addition to the lacquering technique that makes the most of the moist luster of lacquerware, the company has handed down the unique decorative techniques of Aizu, such as Aizu-e painting with motifs of pine, bamboo, plum, and ceremonial arrow, and the spinning wheel. Fukunishi Soubei's lacquerware flexibly incorporates modern industrial technology, and is a special product that has a high artistic value as well as an aspect of being daily use items with which long-time use gives an additional charm.
View more Fukunishi Sobe items
About AIZU LACQUERware
Aizu is located in the southern part of the Tohoku region and is known as a place where nature and history are richly preserved and a unique culture takes root. The Aizu region is a basin surrounded by rich nature and has become a famous lacquerware production area where the entire process from the production of materials, such as cultivating lacquer trees, collecting sap, and cutting nearby trees, to the processing and finishing of lacquerware can be done locally. Aizu lacquerware has continued to grow up to the present day, as it has always proactively adopted the latest technology in addition to the traditional techniques that have survived for over 400 years.
View more Aizu Lacquerware
Customer Reviews
Write a Review
Ask a Question
04/11/2022
Chiu C.

Netherlands
Aizu chrysanthemum bowl
This bowl is very beautiful and extremely well made. The hand-painted motifs are meticulously done and it's a charm to use as a rice bowl. I have another lacquered wooden Japensese bowl that is also of very good quality. But even that cannot compare with this Aizu bowl. Definitely the most luxurious bowl I've ever had!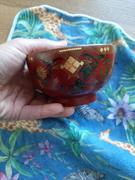 Thanks so much for your thoughtful and detailed review! This bowl is produced by craftsman one by one with love. We wish they make your days little more special!