GATOMIKIO TSUMUGI GUNPAI YAMANAKA LACQUERWARE MISO SOUP BOWL WITH LID
Gatomikio TSUMUGI GUNPAI Yamanaka Lacquerware Miso Soup Bowl with lid
This soup bowl is handcrafted with the Japanese Zelkova wood, characterized by moderate hardness and beautiful wood grain that are familiar to Japanese life.
The shape represents a bird's nest with eggs inside, and signifies prosperity of descendants.
The bowl comes with a lid to keep the soup warm for a long time and to make more beautiful presentation.
All products of GATO MIKIO uses wood turning techniques called "Kijibiki", by which logs carved into products while rotating the wood‐turning lath.
GATO MIKIO's delicate and modern design is unusual for traditional Japanese lacquered tableware. It is created by a design team of several product designers who are active around the world.

Taking advantage of the goodness of traditional crafts such as woodwork products and lacquer, it has a functional beauty that blends into everyday life.
PRODUCT DETAIL
Quantity: 1
Dimension: D12.8cm(5in) x H10cm(3.9in)
Material: Wood - Yamanaka Lacquerware
Origin: Made in Japan
Brand: GATO MIKIO

Tag @musubikiln for a chance to be featured
On Instagram
GATO MIKIO
GATO MIKIO was founded in 1908 as Gado Woodworks in Yamanaka Onsen, Ishikawa Prefecture, the town of the potter's wheel.

They inherited the philosophy of the woodworkers who used the wheel to carve wood to make bowls, trays, and other woodwork, and have always valued the beautiful grain of the wood and the perfection of the carefully ground wood.

And they have made many lacquer ware products with a focus on the perfection of the wood.
Precision of their woodwork
The reason why their products attract people is because they combine the traditional techniques of Yamanaka lacquerware with a modern sensibility in their designs.

The beauty of their lacquerware will continue to grow with time, and will not fade over decades.
View more GATO MIKIO items
about yamanaka lacquerware

Yamanaka lacquerware is produced in the Yamanaka Onsen area of Kaga City, Ishikawa Prefecture, and has a history of about 400 years.
The traditional techniques of Yamanaka lacquerware were highly evaluated and became known throughout Japan, despite a period of temporary interruption.
It is characterized by the use of wood grain patterns to express a natural texture, and is made with great attention to detail.
It was designated as a traditional craft by the Minister of Economy, Trade and Industry in 1975.
Customer Reviews
Write a Review
Ask a Question
08/16/2021
Anonymous

United Kingdom
I recommend this product
Miso Soup Bowl
I absolutely love this bowl. I keep it on display so I can enjoy it's beautiful shape and design. I will be ordering from you again. Very happy customer A****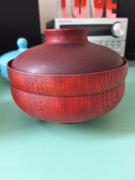 Thank you so much for taking the time to leave us this amazing review! It means so much to us. This bowl could bring out the essence of japanese beauty. Please enjoy to combine it with other products in the future :) We sincerely look forward to serving you again.