SEIKOU KILN LUCKY CAT KUTANI SAUCE PLATE
Seikou Kiln Lucky Cat Kutani Sauce Plate
This Japanese sauce plate features the iconic lucky cat on a red background is the perfect for an everyday use, or celebrating occasions, such as New Year's Day, birthday, and moving party.

It used to be said in Japan, business in households with cats would prosper because they get rid of mice that damage their grains and crops. It is now a well-known symbol that brings money and fortune and is called "lucky cat".
Perfect size as a sauce plate. It is also versatile to serve cheese, nuts, condiments, and other small food. Or you may put a small portion of food or relishes in, place it on a larger plate or into a bento box for more stylish and sophisticated food presentation.
We also have a sake cup with the same lucky cat design.

PRODUCT DETAIL
Dimension: D9.5cm(3.7in) x H1.8cm(0.7in)
Material: Porcelain - Kutani ware
Origin: Made in Japan
Brand: Seikou Kiln
FEATURES
Mokubei Style
Approximately 80 years after the decline of the Ko-Kutani, the Kasugayama kiln was founded in Kanazawa(Kaga Han). Aoki Mokubei introduced the Mokubei style. The figures, generally drawn in the five Kutani colors, are suspended on a red base layer. This overglaze is Chinese style.
Tag @musubikiln for a chance to be featured
On Instagram
Seikou Kiln Beckoning Cat Series
There are different meanings and benefits depending on whether the beckoning cat is holding up its right or left hand. The right hand is said to bring money, and the left hand is said to bring good fortune, such as prosperity and good fate.
Let the beckoning cat series bring you good fortune and keep it close to your life.


View this series
ABOUT SEIKOU KILN
In early Taisho era, (about 100 years ago) Seikou Kiln opened its kiln in Nomi city of Ishikawa prefecture.

Seikou Kiln researched Japanese overglaze paint for Kutani for years. Finally, they realized the product with high quality like hand paint by printing paper. Transparency of glassy glaze and thick overglaze paint are as same quality as hand paint work.
Principles
"Expression which inherits Ko Kutani by using Japanese overglaze paint."
"Consistent with improving quality of Kutani ware as a craft."
"Offer unique elegance of Kutani ware in reasonable price which is acceptable for market."

These 3 are principles of Seikou porcelain. With their as high quality as hand paint, Seikou tells attractiveness of Kutani ware to modern life. They won many awards such as at "Charming Japanese Souvenir Contest" by Japan Tourism Agency or at "Gourmet & Dining Style Show.
View more SEIKOU KILN items
About kutani ware
Kutani ware is a type of pottery produced in the Kaga region of Ishikawa Prefecture and it has a history of over 350 years.
It is characterized by the heavy brilliance of the five colors of green, yellow, red, purple, and navy blue that are applied to the bold and daring lines.
Its long history has evolved through the tireless efforts and enthusiasm of people who have sought innovation while maintaining tradition.
In the early 1700s, the Kutani kilns were closed, but about 80 years later they were opened and Kutani ware was revived.
The beauty of the various styles and methods of painting is known as "Japan Kutani" and is highly regarded around the world.
Customer Reviews
Write a Review
Ask a Question
02/22/2022
Ruby A.

United States
Lucky cat bring me luck!
Oh lucky cat, how I love thee! The lucky cat is a staple in my memory growing up surrounded by Chinese culture. This little sauce pan is perfect sized for sauces but also for small side dishes. I love the colors and the details.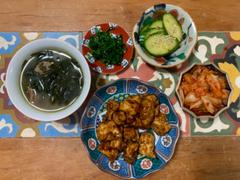 This review made our day! We are so grateful for your kind words. Thanks for sharing your review with us.
02/18/2021
Anonymous

United States
Charming Small Serving Plates
These plates are intended as gifts. The person for whom they are intended will very much enjoy their charming Beckoning Cat design and their usefulness as small serving plates.
Thanks for leaving such a wonderful feedback. You make us want to work harder and better. We look forward to seeing you again soon!
10/30/2020
Laura M.

United States
I recommend this product
Cute plate to use as jewelry holder
So adorable and will be used as a holder on my bathroom counter for my necklaces and bracelets. Colors are rich and vibrant. Design of beckoning cat is so cute.
Thanks so much for writing another great review! It's definitely the perfect size for an accessory tray. I'd love to see how you use your Kutani pottery. Please tag me with #japankutanilife and share it with me :) Thank you so much for your purchase. We look forward to seeing you again soon!