FUKUNISHI SOBE SAKURA AIZU LACQUERWARE FOLDING SCREEN
Fukunishi Sobe Sakura Aizu Lacquerware Folding Screen
The folding screen, with its chic black base and Sakura(cherry blossoms) in full bloom, will add a gorgeous touch to your room. The material is made of wood resin and synthetic lacquer, which is durable and resistant to sunlight and water, and does not deteriorate easily.

Originally, folding screens were used as partitions to block the wind and people's eyes, and were an essential part of interior design. Smaller folding screens can be displayed on a shelf and enjoy the beautiful pictures as they are. It can create a Japanese atmosphere, and if you place small items such as decorative items around it, it will make your interior space more impressive.
Its timeless design is suitable for long-term use, daily use or when entertaining guests.
See more items from our Fukunishi Sobe collection.
PRODUCT DETAIL
Quantity: 1
Dimension: [When open] 50.3cm(19.8in)×30cm(11.8in)×H0.9cm(0.4in)

Material: Wood resin 
Origin: Made in Japan - Aizu Lacquerware
Brand: Fukunishi Sobe
Tag @musubikiln for a chance to be featured
On Instagram
ABOUT FUKUNISHI SOBE
Fukunishi-Sobei Shoten was started by taking over the lacquerware division from the main family, which had been in existence for 13 generations since the early Edo period. They have developed their products over time by figuring out "what must not be changed and what must be changed". In addition to the lacquering technique that makes the most of the moist luster of lacquerware, the company has handed down the unique decorative techniques of Aizu, such as Aizu-e painting with motifs of pine, bamboo, plum, and ceremonial arrow, and the spinning wheel. Fukunishi Soubei's lacquerware flexibly incorporates modern industrial technology, and is a special product that has a high artistic value as well as an aspect of being daily use items with which long-time use gives an additional charm.
View more Fukunishi Sobe items
About AIZU LACQUERware
Aizu is located in the southern part of the Tohoku region and is known as a place where nature and history are richly preserved and a unique culture takes root. The Aizu region is a basin surrounded by rich nature and has become a famous lacquerware production area where the entire process from the production of materials, such as cultivating lacquer trees, collecting sap, and cutting nearby trees, to the processing and finishing of lacquerware can be done locally. Aizu lacquerware has continued to grow up to the present day, as it has always proactively adopted the latest technology in addition to the traditional techniques that have survived for over 400 years.
View more Aizu Lacquerware
Customer Reviews
100
reviewers would recommend this product
Write a Review
Ask a Question
03/28/2022
Anonymous

Hong Kong
I recommend this product
Excellent piece of artwork
Received so many appreciation from whoever saw this folding screen, thanks for creating this wonderful piece of artwork!!!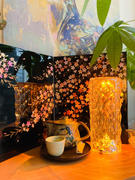 Thank you so much for your warm words and wonderful photo! It's a pleasure to serve you. You make us want to work harder and better. We look forward to seeing you again soon!