HIBINO SUMMUM MINO WARE ROUND PLATE M
Hibino Summum Mino Ware Round Plate M
This simple and modern plate has a beautiful Turkish blue color. The appearance of the glaze is different one by one depending on the situation at the time of baking, and the blue color comes out as a natural and beautiful shade.
Handcrafted by Hibino Ceramic, which specializes in making tableware that brings out the best in dish and makes it look beautiful and appealing.

As well as its excellent design, it is durable and easy to use which makes it is widely used in restaurants in Japan and overseas.

Mino ware is a traditional tableware that is widely distributed in Japan, and is known for its abundant production of high-quality clay.
Highly versatile plate suitable for serving the salad, appetizers, side dish and main dish. With this refreshing look, you may use it for cold Udon noodles and Soba noodles.
See more items from out Hibino Ceramic collection for a more unified and sophisticated table setting.
PRODUCT DETAIL
Quantity: 1
Dimension: D21cm(8.2in) x H3cm(1.1in)
Material: Stoneware - Mino ware
Origin: Made in Japan
Brand: Hibino Ceramic
Tag @musubikiln for a chance to be featured
On Instagram
ABOUT HIBINO CERAMIC
HIBINO is committed to supplying commercial tableware in a prompt and continuous manner to meet the needs of their customers.
They also take a multifaceted view of the latest pottery markets and trends, and aim to improve customer satisfaction by responding appropriately to their customers needs.
They believe that their mission is to transmit traditional Japanese pottery and ware to the world. They will always do their best to pursue the creation of tableware that complement our cuisine, and continue to challenge ourselves to improve their sensibility.
View more HIBINO items
About mino ware
Mino ware is a type of pottery in which many colors and designs have been created to suit the times and people's tastes. Therefore, Mino ware has a variety of techniques and diverse looks and textures.
Mino ware is made using the soil of Gifu Prefecture, known as Japan's largest producer of pottery, and is easily blended into our daily life. The diverse designs and styles of Mino ware, which have changed their shapes to suit the trends of the times and people's lifestyles, are the most attractive and unique of all pottery.
Customer Reviews
Write a Review
Ask a Question
08/09/2023
Martha B.

United States
I recommend this product
Hibino Summon Mino Ware and other items from Musubi Kiln
I LOVE IT! The shape and color are beautiful. The glaze is a true matte finish and the the raw edge is an attractive contrast.
Thank you for your wonderful review! Knowing that you're having a positive experience with our product boosts our confidence. We are looking forward to your next visit!
06/08/2023
Anonymous

United States
Nice plate
Nice color plate. Right size for what I am looking for. Can't wait to use it
Thanks so much for your wonderful comment! We hope the items make your days a little more special!
06/07/2023
Anonymous

United States
Summer Dream
I feel like I'm transported to Atlantis every time I use this plate. Each plate is one of its kind. Its coupey enough that I can comfortably eat 6 cups of green salad in it without any spillage.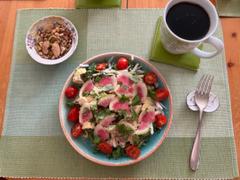 Thanks so much for your wonderful comment! Also, we are so pleased with your photos filled with our items. We are looking forward to your next visit!