IHOSHIRO KILN NINJA MINO WARE CHOPSTICK REST
Ihoshiro Kiln Ninja Mino Ware Chopstick Rest
A must for ninja lovers! This is a cool shuriken chopstick rest.
The matte glaze resembles shuriken made of iron. This may be small, but have a unique and strong presence.
This chopstick rest is made at the Ihoshiro Kiln in Mizunami City, Gifu Prefecture. Their craftsmen make chopstick rests one by one, not using mass production or machining methods.
In Japan, chopstick rests are an indispensable piece for table setting. Although it is a small tableware, you can express your personality by choosing a motif that suits the season or a festive event.
See also the collection of chopstick rests and matching chopsticks for a more unified and traditional Japanese table setting.
Kunai and Makimono will be available soon!
PRODUCT DETAIL
Dimension: D4.8cm(1.9in)
Material: Stoneware
Origin: Made in Japan
Brand: Ihoshiro Kiln
Tag @musubikiln for a chance to be featured
On Instagram
ABOUT IHOSHIRO KILN
Ihoshiro Kiln was established in 2007 in Mizunami City, Gifu Prefecture, a city rich in nature. It is a ceramic studio that produces original chopstick rests with "feelings and hands" in mind.

At present, more than 20 artisans are making cute chopstick rests every day. They design chopstick rests, which are small pieces of ceramic, as items that make people's hearts flutter.

Their chopstick rests convey the season feel and the spirit of hospitality and have the power to change the dining table. The wishes they put into these small chopstick rests are sure to enrich your dining experience.
View more Ihoshiro items
About mino ware
Mino ware is a type of pottery in which many colors and designs have been created to suit the times and people's tastes. Therefore, Mino ware has a variety of techniques and diverse looks and textures.
Mino ware is made using the soil of Gifu Prefecture, known as Japan's largest producer of pottery, and is easily blended into our daily life. The diverse designs and styles of Mino ware, which have changed their shapes to suit the trends of the times and people's lifestyles, are the most attractive and unique of all pottery.
Customer Reviews
Write a Review
Ask a Question
04/11/2022
Chiu C.

Netherlands
Ihoshiro rest - Makimono
In previous order, I got the shuriken and kunai versions and was very pleased with them. But it felt like a missed opportunity in not also getting the Makimono, so I have now added it to my collection. It looks even nicer in person than in the photos. A nice chopstick rest!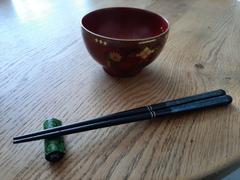 We're so lucky to have a customer like you! You make us want to work harder and better. We look forward to seeing you again soon!