IHOSHIRO KILN WAGASHI SERIES MINO WARE CHOPSTICK REST
Ihoshiro Kiln Wagashi Series Mino Ware Chopstick Rest
A series of witty Japanese chopstick rests in the shape of Wagashi(Japanese sweets). It can be used as a chopstick rest, spoon rest, or even as a figurine.
Please be careful not to mistake them for real ones and put them in your mouth!
The chopstick rests are made at the Ihoshiro Kiln in Mizunami City, Gifu Prefecture. Their craftsmen make chopstick rests one by one, not using mass production or machining methods.
In Japan, chopstick rests are an indispensable piece for table setting. Although it is a small tableware, you can express your personality by choosing a motif that suits the season or a festive event.
See also the collection of chopstick rests and matching chopsticks for a more unified and traditional Japanese table setting.
PRODUCT DETAIL
Dimension: 【Long Side】Approx. 5.5cm(2.2in)
Material: Stoneware
Origin: Made in Japan
Brand: Ihoshiro Kiln
Tag @musubikiln for a chance to be featured
On Instagram
ABOUT IHOSHIRO KILN
Ihoshiro Kiln was established in 2007 in Mizunami City, Gifu Prefecture, a city rich in nature. It is a ceramic studio that produces original chopstick rests with "feelings and hands" in mind.

At present, more than 20 artisans are making cute chopstick rests every day. They design chopstick rests, which are small pieces of ceramic, as items that make people's hearts flutter.

Their chopstick rests convey the season feel and the spirit of hospitality and have the power to change the dining table. The wishes they put into these small chopstick rests are sure to enrich your dining experience.
View more Ihoshiro items
About mino ware
Mino ware is a type of pottery in which many colors and designs have been created to suit the times and people's tastes. Therefore, Mino ware has a variety of techniques and diverse looks and textures.
Mino ware is made using the soil of Gifu Prefecture, known as Japan's largest producer of pottery, and is easily blended into our daily life. The diverse designs and styles of Mino ware, which have changed their shapes to suit the trends of the times and people's lifestyles, are the most attractive and unique of all pottery.
Customer Reviews
Write a Review
Ask a Question
04/06/2023
Anonymous

United States
Adding some fun to my table setting
Perfect and cute!
Thank you so much for taking the time to leave us this review. We wish the Chopstick Rest makes your days a little more special!
07/06/2022
Anonymous

United States
I recommend this product
The Best Chopstick Rests
I have been meaning to purchase from Musubi Kiln for quite a long time but did not have the occasion to throw money at this purchase until I heard that my best friend of nearly 20 years announced her engagement. I was so excited for her that I purchased a one-of-a-kind tea set. Of course, that meant I had to get a small something for myself and these chopstick rests were just the perfect thing. The attention to detail is exquisite and I cannot recommend them enough for dinner parties.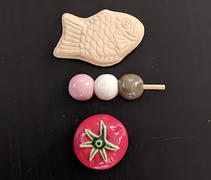 We're so lucky to have a customer like you! You make us want to work harder and better. We look forward to serving you again!
06/22/2022
Nancy W.

United States
I recommend this product
Perfect chopstick holder!
I absolutely love these chopstick holders! They remind me of the dango we ate while visiting Japan. Fantastic craftsmanship
Thank you for sharing your wonderful story and review with us. We are glad this item reminds you of memories in Japan.