SEIKOU KILN FOLIAGE KUTANI ROUND PLATE
Seikou Kiln Foliage Kutani Round Plate
The Japanese plate features a large yellow sycamore leaf in Ko-Kutani (old Kutani) style, dating back to mid-17th century, depicting the nature-themed daring design and distinctive bright colors of Kutani ware.
With a diameter of 15 cm (5.9 in), it is perfect as an extra palate for the main dish or dessert.

You can use this plate on your kitchen table, or this will be a great gift for your loved one who might be interested in the world of traditional Japanese artwork. With the design that brightens up your kitchen table, the plate can also be used as decorative art on a wall or a shelf.
There are different designs for the same plate from Kutani ware so collect your favorite motifs. See more items from our Kutani ware collection to create traditional meets modern table setting.
PRODUCT DETAIL
Dimension: D15cm(5.9in) x H2cm(0.8in)
Material: Porcelain - Kutani ware
Origin: Made in Japan
Brand: Seikou Kiln
FEATURES
Ko-Kutani Style
Ko-Kutani is one of the most traditional style of Kutani Ware. Its characteristics are a mighty and lovely design and flowing hairline with five colors of paint (green, yellow, red, purple, dark blue). The style attracts by its dynamic subtle charm. This style prospered under the guidance of Morikage Kusumi, expert of the Kanoschool of Japanese painting.
Tag @musubikiln for a chance to be featured
On Instagram
Seikou Kiln Foliage Series
The green background accentuates the beauty of the foliage.
View this series
SEIKOU KILN
In early Taisho era, (about 100 years ago) Seikou Kiln opened its kiln in Nomi city of Ishikawa prefecture.

Seikou Kiln researched Japanese overglaze paint for Kutani for years. Finally, they realized the product with high quality like hand paint by printing paper. Transparency of glassy glaze and thick overglaze paint are as same quality as hand paint work.
Principles
"Expression which inherits Ko Kutani by using Japanese overglaze paint."
"Consistent with improving quality of Kutani ware as a craft."
"Offer unique elegance of Kutani ware in reasonable price which is acceptable for market."

These 3 are principles of Seikou porcelain. With their as high quality as hand paint, Seikou tells attractiveness of Kutani ware to modern life. They won many awards such as at "Charming Japanese Souvenir Contest" by Japan Tourism Agency or at "Gourmet & Dining Style Show.
View more SEIKOU KILN items
About kutani ware
Kutani ware is a type of pottery produced in the Kaga region of Ishikawa Prefecture and it has a history of over 350 years.
It is characterized by the heavy brilliance of the five colors of green, yellow, red, purple, and navy blue that are applied to the bold and daring lines.
Its long history has evolved through the tireless efforts and enthusiasm of people who have sought innovation while maintaining tradition.
In the early 1700s, the Kutani kilns were closed, but about 80 years later they were opened and Kutani ware was revived.
The beauty of the various styles and methods of painting is known as "Japan Kutani" and is highly regarded around the world.
Customer Reviews
Write a Review
Ask a Question
05/07/2023
Anonymous

Singapore
I recommend this product
Seikou Kiln Foliage Kutani Round Plate
Firstly, the design is very nice and the finishing is very good. I am glad that you were able to change my order to two plates and shipped them together. The slight miss is a small fault on the glaze of one of the plates. It is not bad enough to reject but a slight flaw.
We are so grateful for your kind words! Regarding the flaw, it could be penetration which is one of the characteristics of the glaze. Please refer to our product policy page for more information about penetration.: https://musubikiln.com/pages/product-quality If it seems not, please send us a photo then we'd like to send you a replacement.
09/21/2020
Eduardo P.

Canada
I recommend this product
Beautiful Craftsmanship and Wonderful piece of Art!
Bought the Ko-Kutani Foliage plate as part of a gift for my girlfriend and it's stunningly beautiful seeing it first hand! The colours are vivid and the glaze on the plates make an excellent presentation! I bought this along with other Kutani wares from this shop, and all are well made! Beautifully wrapped too, which makes the gift even more impressive! My girlfriend absolutely loves it! A+++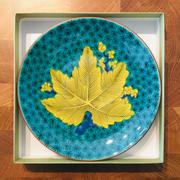 Thank you so much for taking the time to leave us this amazing review! We are so grateful for your kind words. They are produced by craftsman one by one with love. We wish they make your days little more special! ;) We're happy that you're happy, and we're looking forward to your next visit!