ATELIER YU SHIBA INU IN SUNNY SPOT KUTANI MUG
Atelier Yu Shiba Inu in Sunny Spot Kutani Mug
The mug cup features two Shiba Inu snuggled up together. Mt. Fuji and Sakura are also painted, giving it a Japanese feel.
The soft texture of the stoneware and the contrast between white and brown create a warm atmosphere.

Pour your favorite tea or freshly ground coffee into the cup. Your usual teatime will turn into a wonderful space where your special guests appreciate your hospitality.
We also have the same mug with different animals such as cats, cows, mouse, and tigers.
NOTE: 
Due to the characteristics of the kiln, there may be individual differences in glaze hue.

PRODUCT DETAIL
Dimension: D8cm(3.14in) x H8cm(3.14in)
Capacity: 230ml(7.8oz)
Material: Stoneware - Kutani ware
Origin: Made in Japan
Brand: Atelier Yu
Tag @musubikiln for a chance to be featured
On Instagram
Atelier Yu Sunny Spot Collection
Two cats gently cuddling. They will bring a relaxing atmosphere to your life. Other adorable animal motif items also there.


View this series
ABOUT ATELIER YU
"Tableware determines the taste of food"

Their atelier is specialized in Kutani ware painting performed by female artisans.

Artisans work every day at the foot of the sacred Hakusan mountain surrounded by sounds of breeze of singing birds.

Kutani Colored Artwork
While focusing on the traditional colors called Kutani gosai (five colors), they add the sweetness of women to our pottery, hoping to bring a smile to everyone who use it.

They are delighted to help bring a smile to your dining.

View more Atelier Yu items
About kutani ware
Kutani ware is a type of pottery produced in the Kaga region of Ishikawa Prefecture and it has a history of over 350 years.
It is characterized by the heavy brilliance of the five colors of green, yellow, red, purple, and navy blue that are applied to the bold and daring lines.
Its long history has evolved through the tireless efforts and enthusiasm of people who have sought innovation while maintaining tradition.
In the early 1700s, the Kutani kilns were closed, but about 80 years later they were opened and Kutani ware was revived.
The beauty of the various styles and methods of painting is known as "Japan Kutani" and is highly regarded around the world.
Customer Reviews
Write a Review
Ask a Question
03/14/2023
Anonymous

Singapore
Beautiful artwork
The mug so lovely painted with Shiba Inu image and happen that I am a dog lover and I love every bit of it
Thanks so much for leaving another review! We're glad that those pieces arrived safely and that you love them! They are produced by craftsmen one by one with love. We wish they make your days a little more special!
10/28/2022
Jamie A.

Singapore
Cup of Happiness
Whenever I see this cup, it just lift my spirits up. Coupled with hot chocolate and a soft blanket, you would even look forward to dark gloomy days. I also love the feel of it between my mouth, it sounds weird i know, but the thickness is just right as i sip my drink. Thank you to the artisans and the people who brought me this little bit of joy.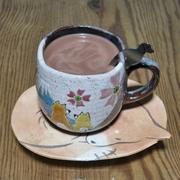 Thank you so much for taking the time to leave us this amazing review!Your kind words encourage us greatly. We look forward to serving you again.