WHITE PLUM KUTANI MATCHA BOWL CHAWAN
White Plum Kutani Matcha Bowl Chawan
The Japanese matcha bowl "chawan" features delicately painted white plum blossoms on generously applied gold leaf. Made by Mr. Toyoshi Yamada, a renowned Kutani ware artist famous for his use of gold, silver and platinum to create beautiful colors.
The flower language of white plum is "dignity" and "clear heart". The neat atmosphere of white plum has a sophisticated charm that makes you feel stunned.
Handmade by potter's wheel, the warmth and thickness of this bowl helps keep the freshly prepared matcha green tea drink warm, and fits in the hand comfortably.
With the charming appearance, this Japanese matcha bowl will be your long-time favorite. Delivered in an original wooden box, it's a perfect gift for your loved ones.
PRODUCT DETAIL
Dimension: D12cm(4.7in) x H7cm(2.7in)
Capacity: approx. 320ml(10.8oz)
Material: Stoneware - Kutani ware
Origin: Made in Japan
Brand: Mr. Toyoshi Yamada
Notes: Special wooden box included
FEATURES
Kinsai Style
One of the most popular technique of Kutani Ware. Gold leaf applied to the surface creates a pattern that is unique to each piece, and produces a gorgeous and elegant brilliance.
Mr. Toyoshi Yamada
Toyoshi Yamada, a traditional craftsman, is famous for his use of gold, silver and platinum to create beautiful colors. He has been selected for numerous art exhibitions and has received national and international attention.
Tag @musubikiln for a chance to be featured
On Instagram
About kutani ware
Kutani ware is a type of pottery produced in the Kaga region of Ishikawa Prefecture and it has a history of over 350 years.
It is characterized by the heavy brilliance of the five colors of green, yellow, red, purple, and navy blue that are applied to the bold and daring lines.
Its long history has evolved through the tireless efforts and enthusiasm of people who have sought innovation while maintaining tradition.
In the early 1700s, the Kutani kilns were closed, but about 80 years later they were opened and Kutani ware was revived.
The beauty of the various styles and methods of painting is known as "Japan Kutani" and is highly regarded around the world.
Customer Reviews
Write a Review
Ask a Question
12/22/2020
Anonymous

Greece
I recommend this product
Kinsai White Plum Kutani Ware Matcha Bowl review from Greece
I am very happy and honoured to have received this masterful piece of Japanese craftsmanship. I hold great admiration for the arts and culture of Japan and I wish to express my gratitude to the creator of this piece but also to all who contributed their efforts in making it available on time and in perfect condition as far away as Greece.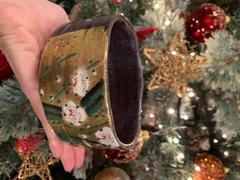 Thanks so much for your positive feedbacks and good vibes! It means so much when our best customers share their experiences :) We will continue to work hard to provide you with a product that will make you happy again!