BLUE TURNIP MINO WARE DONBURI RICE BOWL WITH LID S
Blue Turnip Mino Ware Donburi Rice Bowl with Lid S
This small sized Japanese Donburi rice bowl features hand-painted turnips in indigo blue.
Suitable for Donburi recipes using about 3/4 cup (3/4 gou) of rice. This is the standard size of a Donburi bowl in Japan. It can be used for various kinds of Donburi Rice such as Katsudon, Gyudon, Oyakodon, Kaisendon, etc.
It may be a little too small to be used for noodles with soup.
The lid will steam the food inside and make the rice and ingredients in the bowl taste better. It also keeps the food from getting cold and looks gorgeous, making it perfect for celebrations and entertaining guests.
See more items from our Mino ware collection for a more unified and beautiful table setting.
PRODUCT DETAIL
Quantity: 1
Dimension:

15.6cm(6.1in) x

H11cm(4.3in)
Capacity

: 630ml(21.3oz)

Main Usage: Donburi rice
Material: Porcelain- Mino ware
Origin: Made in Japan
Tag @musubikiln for a chance to be featured
On Instagram
About mino ware
Mino ware is a type of pottery in which many colors and designs have been created to suit the times and people's tastes. Therefore, Mino ware has a variety of techniques and diverse looks and textures.
Mino ware is made using the soil of Gifu Prefecture, known as Japan's largest producer of pottery, and is easily blended into our daily life. The diverse designs and styles of Mino ware, which have changed their shapes to suit the trends of the times and people's lifestyles, are the most attractive and unique of all pottery.
Customer Reviews
Write a Review
Ask a Question
I recommend this product
Beautiful turnip design
Very pleased with the beauty and graceful design of this turnip bowl. The brush strokes are elegant and organic. The lid also fits beautifully and securely, as the lip of the bowl is slightly flared outward to nest the lid. I hesitated to purchase this last year (because there are so many items I wanted to buy) but am so glad I finally purchased it.
Thanks so much for your thoughtful and detailed review! We're so glad that the craftsmen's work is highly acclaimed. We wish they make your days a little more special!
08/23/2022
Marie S.

Canada
I recommend this product
Sheer Beauty
I used the bowl for my favourite spaghetti dish and unicorn macaroni and both were terrific in this bowl. It feels luxurious at a reasonable price. I love it especially since it is authentically Japanese.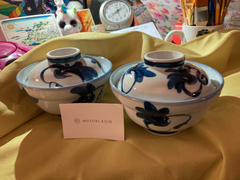 Thank you so much for taking the time to leave us this amazing review! It means so much to us. Learning about the pleasant experience is really confidence-boosting. We look forward to serving you again.
03/23/2022
Anonymous

Australia
I recommend this product
Excellent product !
Love this beautiful donburi bowl with lid .. it is absolutely beautiful as shown online. Love the vibrant blue tulips on white ..I immediately use it for my meal, didn't wait. So often I purchase plates and bowl from overseas, but this is one very well package for the distance and as a gift ! I will cherish it like a prized Ming dynasty antique bowl! Thank you very much for making such high quality products!
Thank you for taking the time to write this review. Your kind words encourage us greatly! We look forward to serving you again.