ISSOU SPRING FLOWERS NISHIJIN ORI BROCADE CHOPSTICKS CASE
Issou Spring Flowers Nishijin Ori Brocade Chopsticks Case
This gorgeous chopstick case is made of Nishijin Ori brocade with spring flowers pattern.
All are made of thick high-grade Nishijin Ori brocade from Kyoto. The length of the best chopsticks is 23.5cm(9.3in), but there is room enough to wrap chopsticks up to the tips even if they are 24cm(9.4in) long.

A cap for the chopstick tip is included for hygienic use. The chopstick case is also hand washable.

It would be wonderful if a chopstick case with a noble and elegant atmosphere appeared from your bag when you eat a homemade bento or a convenience store bento.
From the standpoint of environmental protection, reusable chopsticks and chopstick cases is highly recommended.

It is a perfect gift for those who use chopsticks, as it is a gem that combines traditional Japanese techniques and culture.
PRODUCT DETAIL
Quantity: 1 (A cap for the chopstick tip is included )
Dimension: 4.5cm x 24.5cm(9.6in) x 1cm(0.4in)
/Can be used with chopsticks up to 24 cm(9.4in) in length. 
Material: Outer fabric/ 79% polyester, 19% polyethylene, 2% nylon
Lining/ 100% cotton

Origin: Nishijin Ori brocade
Brand: Issou
Hand-washable in cold water
Tag @musubikiln for a chance to be featured
On Instagram
ISSOU COLLECTION
Issou is an original brand of Ishida, the company which has been making Wakasa lacquer chopsticks for over 80 years. It has a variety of creative and high-quality chopsticks that fit the needs of modern life, made with the techniques that have been handed down from previous generations.

It collaborates with different production areas, such as Wajima lacquerware and Aizu lacquerware, to create beautiful designs and functionality that have never been seen before.
About Nishijin Ori Brocade
Nishijin Ori brocade is a yarn-dyed textile produced in Nishijin, Kyoto. It has a long history, dating back to the Heian period (794-1185), and is characterized by the use of beautifully dyed threads and patterns woven using a variety of techniques.

Because they are produced in small quantities in a wide variety, they are highly scarce and valuable fabrics that can be used for a long time, passing from one generation to the next.
View Items
Customer Reviews
Write a Review
Ask a Question
08/28/2023
Anonymous

South Korea
I recommend this product
Private red one
I love this private thing.
07/20/2023
Jela

United States
I recommend this product
Perfection!!!
This chopstick case started my love for Musubi Kiln's products. This case is so well-made, a literal work of art, flawless product all around. When the lights hits it, the brocade shines in all the right places making it look like magic . Can't get enough of it! Love it so much! Definitely boosted my mood.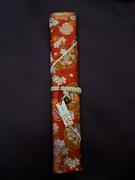 Thank you for leaving another wonderful feedback with the amazing pictures! Knowing that you're having a positive experience with our products really boosts our confidence. We look forward to seeing you again soon!
07/14/2023
Anonymous

United States
Definition of Perfection
Such a excellent quality and beautiful craftsmanship!!!! An excellent case that can't be found easily elsewhere. Literally is the definition of Perfection!!
Thank you so much for your wonderful comment! Our craftsmen and we will be so happy if you would use the chopstick case for a long time. We look forward to receiving your order again!