KUTANI LUCKY CAT - MANEKI NEKO B
Kutani Lucky Cat - Maneki Neko B
This Calico beckoning cat is made using the advanced technique of Kutani ware.

In the old days, Japanese farmers living with cats were said to prosper without crop damage because cats would drive away rats that damage their crops.
Today, also known as a "lucky cat," the beckoning cat is popular as a charm of good financial fortune.
Among the various colors and patterns of lucky cat, the most traditional and standard cat is this calico cat.

Basically, the sex of calico cats is female, but in rare cases, male calico cats may be born. There is a legend that the ship will not be distressed if the calico cat that invites good fortune is on board, and it is said that the male calico cat calls for good fortune and the ship does not sink because of its rarity.

Filled with Japanese tradition and good fortune, this lucky cat is excellent for your house decor and brings good luck to you and your loved ones.
For more Lucky cats, click here.
PRODUCT DETAIL
Dimension: D8cm(3.14in) x H14cm(5.51in)
Material: Porcelain - Kutani ware
Origin: Made in Japan
Tag @musubikiln for a chance to be featured
On Instagram
About kutani ware
Kutani ware is a type of pottery produced in the Kaga region of Ishikawa Prefecture and it has a history of over 350 years.
It is characterized by the heavy brilliance of the five colors of green, yellow, red, purple, and navy blue that are applied to the bold and daring lines.
Its long history has evolved through the tireless efforts and enthusiasm of people who have sought innovation while maintaining tradition.
In the early 1700s, the Kutani kilns were closed, but about 80 years later they were opened and Kutani ware was revived.
The beauty of the various styles and methods of painting is known as "Japan Kutani" and is highly regarded around the world.
Customer Reviews
Write a Review
Ask a Question
11/17/2021
Anonymous

Singapore
I recommend this product
Review of Kutani Lucky Cat
The shipping to Singapore was very fast and the item came within a week! It was super well wrapped as well and well-protected to prevent breakage. The item is very cute and exactly like the photo. Thanks!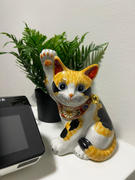 Thank you so much for your thoughtful and detailed review! Learning about the pleasant experience you had with our items was really confidence-boosting. We wish this lovely cat will bring you lots of happiness :)