SEIKOU KILN WHITE CRANE KUTANI RECTANGLE PLATE
Seikou Kiln White Crane Kutani Rectangle Plate
The large Japanese plate features the design of two cranes facing each other. The pine trees and waves drawn in the background are common sights on the coast of Japan where pine trees are often planted. It is an eye-catching plate with beautiful colors and bold composition of Kutani color.
It is hand-painted by brush, using Japanese paint called "Wa-enogu" which is one of the remarkable features of Kutani ware, as you can see the painted part is slightly thickened.
The large plate (32 cm) is perfect for serving appetizers, the side dish, and main dish. It can be used as a decorative art, looks great with a stand sold separately.
It is highly recommended as a gift for yourself or someone who loves Japanese art and culture.

PRODUCT DETAIL
Dimension: 32cm(12.5in) x 20cm(7.9in) x 4(1.5in)
Material: Stoneware - Kutani ware
Brand: Seikou Kiln
Origin: Made in Japan
Tag @musubikiln for a chance to be featured
On Instagram
ABOUT SEIKOU KILN
In early Taisho era, (about 100 years ago) Seikou Kiln opened its kiln in Nomi city of Ishikawa prefecture.

Seikou Kiln researched Japanese overglaze paint for Kutani for years. Finally, they achieved a high quality product with their printing paper. Transparency of glassy glaze and thick overglaze paint are as same quality as hand paint work.
Principles
"Expression which inherits Ko Kutani by using Japanese overglaze paint."
"Consistent with improving quality of Kutani ware as a craft."
"Offer unique elegance of Kutani ware in reasonable price which is acceptable for market."

These 3 are principles of Seikou porcelain. With their as high quality as hand paint, Seikou tells attractiveness of Kutani ware to modern life. They won many awards such as at "Charming Japanese Souvenir Contest" by Japan Tourism Agency or at "Gourmet & Dining Style Show.
View more SEIKOU KILN items
About kutani ware
Kutani ware is a type of pottery produced in the Kaga region of Ishikawa Prefecture and it has a history of over 350 years.
It is characterized by the heavy brilliance of the five colors of green, yellow, red, purple, and navy blue that are applied to the bold and daring lines.
Its long history has evolved through the tireless efforts and enthusiasm of people who have sought innovation while maintaining tradition.
In the early 1700s, the Kutani kilns were closed, but about 80 years later they were opened and Kutani ware was revived.
The beauty of the various styles and methods of painting is known as "Japan Kutani" and is highly regarded around the world.
Customer Reviews
Write a Review
Ask a Question
I recommend this product
Making the sushi eating experience extra special!
I love this plate! It elevates my sushi dining experience to the max.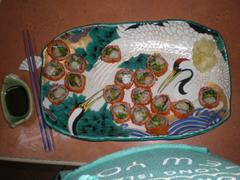 Thank you so much for taking the time to leave us this amazing review with a photo! We are so glad to know that the plate is making your sushi dining a little more special!
I recommend this product
Sushi Served for a Queen!
How could one not feel pampered when eating off of plates that look so regal? Your Kutani Ware lifts my spirits and turns the dining experience into a real treat! I look forward to seeing your future designs and hope that these two plates are just a start to my new collection.
Thanks for sharing your review with the photos! We're happy that you're happy, and we're looking forward to your next visit.
03/01/2022
Anonymous

Singapore
I recommend this product
満足します
お皿は本当に綺麗です。配達は速かったです。どもうありがとうございます。
Thank you for taking the time out to share your experience with us. We are so grateful for your kind words. ありがとうございました!