KOKUZOU KILN AKAE CAMELLIA KUTANI GUINOMI SAKE CUP
Kokuzou Kiln Akae Camellia Kutani Guinomi Sake Cup
This Japanese sake cup features the camellia in a watercolor-like painting. "Akae" is one of the famous painting styles of Kutani ware, using a deep red color.
Kokuzou Kiln, known for their gentle and warm stoneware with beautiful colors and elegant design, tries to create everyday tableware into something more special.
The shape is handcrafted by potter's wheel so you can feel the natural charm of stoneware.
The smooth texture of stoneware feels relaxing and soft to your mouth, bringing out the rich yet delicate taste of Sake.
See more items from our Kokuzou Kiln collection for a more unified and elegant table setting.
Note: You may find small pink spots known as "Gohonte" on the surface of this item. The iron in the material creates natural spots after being fired in the kiln. The appearance of Gohonte actually expresses that the item has been properly fired, and its precious beauty is highly regarded amongst craftsmen.   
Please enjoy the beauty of Gohonte as a unique feature of this item.
PRODUCT DETAIL
Quantity: 1 cup
Dimension: D6cm(2.36in) x H5cm(1.97in)
Material: Stoneware - Kutani ware
Origin: Made in Japan
Brand: Kokuzou Kiln
Tag @musubikiln for a chance to be featured
On Instagram
ABOUT KOKUZOU KILN
Their atelier is located at the foot of the historic Kokuzo mountain in the traditional land of Kutani.

It requires about three weeks to make a tableware out of clay through multiple processes. They spare no effort in their work, paying great attention to every detail.

Unlike manufactured products, each piece of tableware is handmade and sold in an integrated process, so that the warmth of the earth and the heart of the craftsman reside in each piece.
"Warmth of handmade pottery"
The Kokuzou Kiln uses the traditional techniques of Kutani ware to make a modern and new style of Kutani ware.

Their products are exclusively handcrafted and hand-painted, characterized by unique shapes, innovative and colorful designs.

The core of the brand's manufacturing is to create products that are pleasing to the eye, enjoyable to use, and whose presence enriches people's lives. They are committed to manufacturing with the belief that their pottery will be close to their customers and bring color and comfort to their daily lives and dining tables.
View more KOKUZOU KILN items
About kutani ware
Kutani ware is a type of pottery produced in the Kaga region of Ishikawa Prefecture and it has a history of over 350 years.
It is characterized by the heavy brilliance of the five colors of green, yellow, red, purple, and navy blue that are applied to the bold and daring lines.
Its long history has evolved through the tireless efforts and enthusiasm of people who have sought innovation while maintaining tradition.
In the early 1700s, the Kutani kilns were closed, but about 80 years later they were opened and Kutani ware was revived.
The beauty of the various styles and methods of painting is known as "Japan Kutani" and is highly regarded around the world.
Customer Reviews
Write a Review
Ask a Question
05/28/2022
Steven S.

United States
I recommend this product
Unique and Beautiful Cup
This is a perfect addition to my small collection of sake cups. The size is exactly what I was looking for. Finally, the design of camellia enhances the experience.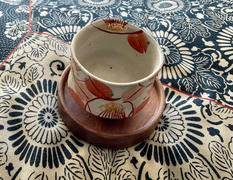 Thank you so much for taking the time to leave us this amazing review! It means so much to us. Please enjoy a pleasant time with this sake cup :)
03/29/2022
Natalie L.

Hong Kong
I recommend this product
Beautiful
The cup is very beautiful.
Thank you for the kind review!We are so pleased that you love this sake cup. We look forward to serving you again.